Currently :
0 member
13 anonymous








Log In
Register

Free registration

The Sims 3
Island Paradise
June 25/27, 2013


Pressbook de GS3
LePoint.fr
First appearance on the internet, June 4, 2009.



To read the article, click here.
Les Sims Magazine

Exclusive interview on the official magazine of the Sims!
Two pages are devoted entirely to the GS2 and GS3 sites.
In addition, a photo of the creator of these sites, me

.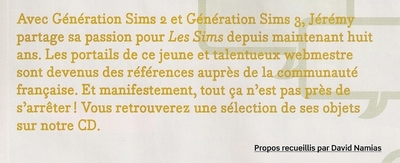 To read the article, buy The French Sims Magazine No. 14, December 2009, January 2010.